Details

Category: Arts
Created on Wednesday, 06 February 2013 21:45
by Megan Narsing
Limbo and Archie Cooper aren't household names. In fact they aren't even very well known in their own province. A select audience follows their work– electronic music fans.
In Regina the raging musical scene is rock and punk bands at O'Hanolans and folk groups. Unlike big cities all over the world, electronic music hasn't really taken hold in Regina, according to Cooper.
Electronic music is completely made using technology, including turntables and, in some cases, just a laptop and a few mixing programs.
Details

Category: Arts
Created on Wednesday, 16 January 2013 17:18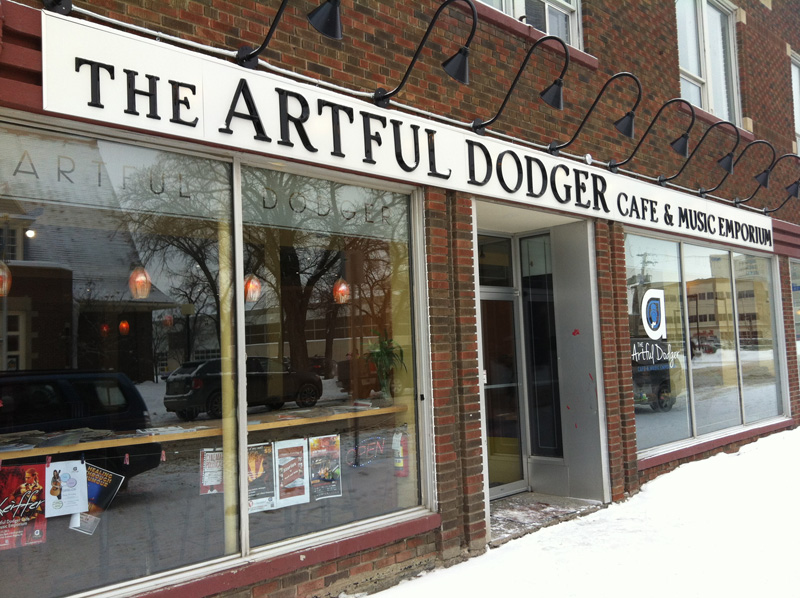 by Maureen Mugerwa
The brick walled building located on 11th Avenue gives you a warm feeling when you walk in. You feel as though you just want to stay and this is what founder Carol Cairns wants people to feel. "I wanted to create a space where you could linger. I want people to stay," she said.
Details

Category: Arts
Created on Wednesday, 26 September 2012 10:13

By Jazminn Hintz
Young models in Regina are hitting the runway to raise money for charity and gain international exposure.
The contest, called Discovered, will have models strut their stuff the entire month of September for the chance to win a professional modeling contract.
Details

Category: Arts
Created on Thursday, 01 March 2012 19:54
One of last year's books is on display outside of the art supply store in the Fine Arts Department at the University. Photo by Brigid McNutt.
By Brigid McNutt
Back in November, 147 black sketchbooks with a secret theme tucked in the back were distributed at the University of Regina.  After giving the owners three months and unlimited creative license to alter them, project organizer Angel McDowell is now expecting them back.  
Manager of the campus art store, McDowell started the Little Black Book Project last year.  She was inspired by a link she found on StumbleUpon.com about the Sketchbook Project out of Brooklyn, New York.
In her own variation of the project, each participant paid a $10 registration fee, and was given a plain black 5.5 x 8.5 in. sketchbook with a secret theme to get them started.
"It was the secret that sparked peoples' interest—that's your jumping off point," said McDowell.
Details

Category: Arts
Created on Wednesday, 16 January 2013 16:29
by Megan Narsing
"Most people search their entire lives for adrenaline – but true adventure finds you." This isn't just the tagline for Trevor Frieson's first novel, The Last Item. This is also something that plays a key role in Frieson's philosophy of life.
Details

Category: Arts
Created on Friday, 06 April 2012 18:39
Jon Herriot will host a The Wooden Sky concert in his living room on April 16. Photo by Brigid McNutt.
by Brigid McNutt
"I'm going to have to ask the dog to leave the stage," is a comment one would rarely hear from a musician—unless attending a house concert. At these shows, the formalities of performances at large venues don't apply.  Gaining popularity as a setting for informal and intimate concerts, living rooms are opening up locally and across the country to musicians and the community.
Regina resident and indie-music lover Jon Herriot entered a contest with Exclaim! Magazine to have Toronto-based band The Wooden Sky perform at his house. After outlining why his home would be a good choice, he was chosen as one of six winners to host the concerts across Canada.
Herriot is not new to hosting house concerts.
"I like it because I'm generally fascinated with meeting these people. Even if they're not famous, it makes you feel like you have a connection with the bands," he said, noting that because of the informal nature of the shows, the audience can see a new side of the artists.
Details

Category: Arts
Created on Thursday, 26 January 2012 23:14

The Culturual Exchange and Saskatchewan Arts Board are working to help venues in rural communities present Saskatchewan performers. Photo by Brigid McNutt.
By Brigid McNutt
The Cultural Exchange is taking musicians on the road as part of its pilot project Presenters Network. The goal is to expand the network of performance venues throughout the province.  By working with rural communities to develop new venues, the project seeks to inspire more frequent cultural events in rural communities, and help Saskatchewan artists to share their music. 
"It serves as an opportunity for the program to show Saskatchewan how much talent lives within their own province they may not be familiar with, and also allow those artists the opportunity to build new audiences," said Mike Dawson, program officer for the Presenters Network.