Details

Category: Media Matters
Created on Thursday, 01 March 2012 17:43

A University of Regina student reads her news online without distraction by the hyperlinks. Photo by Kelly Malone.
by Kelly Malone
Newspaper readers may not be used to the blue words but the hyperlink is becoming more important to online news.
Hyperlinks have created an easy way to access information on online news sites. Readers can trace a writer's work or the origin of developing stories, but for many news organizations the issue of linking to competitors is a new frontier.
Linking to competitors is a necessary service for readers, according to CBC Saskatchewan online journalist Kevin O'Connor.
"Linking out helps create trust between the reader and your news organization. It shows you're not naïve about people's news browsing habits," he said.
There are also business advantages. O'Connor explained CBC's move toward external linking will bring more traffic to the site.
Details

Category: Media Matters
Created on Wednesday, 23 November 2011 16:26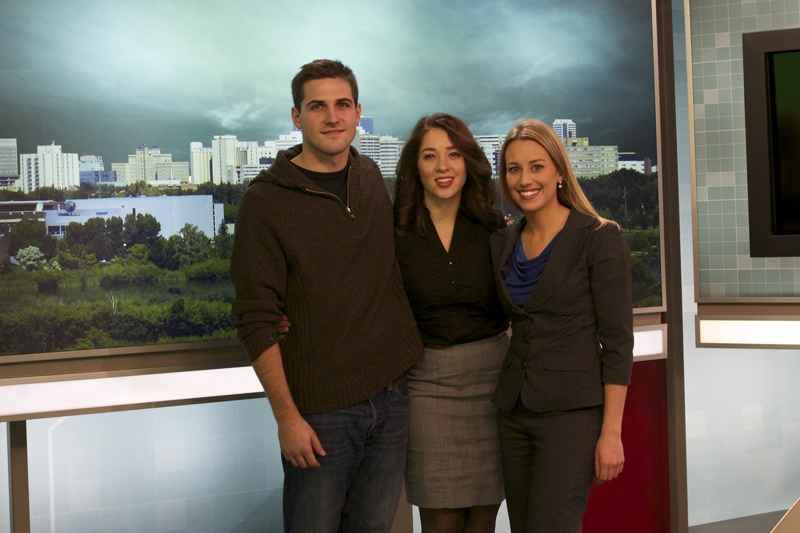 Scott McLean, Rustie Dean and Heather Anderson smile on the new set of Global's Morning News. Photo by Kim Jay.

by Kim Jay
A month ago Regina had no morning TV news programming. Now, Global and CTV will be battling it out for an audience.  On Nov 28, Global Regina will roll out their morning news program, shortly after their competitors at CTV Regina hit the air with a similar local morning show.
Global's three hour long program will provide news headlines every 30 minutes, along with a variety of weather reports, traffic updates, in-studio interviews and live hits from around the city.
Details

Category: Media Matters
Created on Friday, 21 October 2011 14:56

Seeing Red profiles the questionable coverage of aboriginal people in Canada's press. Photo by Christeen Jesse.
By Christeen Jesse
Eight years ago, academic Mark Anderson was asked to review a book on how newspapers in the United States had portrayed aboriginal people in the early 1800s. As he sifted through the research, a seed was planted in his head—one that took until this October to bloom.
Details

Category: Media Matters
Created on Wednesday, 28 October 2009 16:56
by Adriana Christianson
Tweets, blogs, Facebook and YouTube – these world-wide forums are fast, free, popular and now they are transforming election campaigns at the local level. 
At 10 pm on Wednesday, a live feed on the Regina civic election website posted unofficial results reported by 53 out of 55 polling stations. This is only one example of how residents followed the 2009 civic election in more ways than ever before.

Details

Category: Media Matters
Created on Monday, 31 October 2011 09:28
by Jonathan Hamelin
The first episode of CTV Regina's new morning show came out swinging, literally. Regina mayor Pat Fiacco appeared on the show with boxing gloves and knocked co-anchor Jonathan Glasgow to the floor.
Saskatchewan Roughriders receiver Rob Bagg also stopped by to share his favourite candy apple recipe. Show producer Meghan Duffy said viewers can expect more of the same from the program. CTV's morning shows are scheduled to run Monday to Friday, 6-9 a.m., in Regina and Saskatoon, the first of at least two local TV stations to step into the morning news market.
Details

Category: Media Matters
Created on Thursday, 10 March 2011 10:46
by Noah S. Wernikowski
Sun News Network, Canada's third 24-hour news station, is set to launch in mid-April. The path leading up to its debut has been awry with speculation, fabrications, condemnation and, well, hysteria. First, there was a 2009 New York meeting between Roget Ailes, president of Fox News, Rupert Murdoch, the station's  owner, our Prime Minister Stephen Harper, and the now Sun News front man Kory Teneycke. Next, a high-profile clash between Margaret Atwood and Teneycke, which saw the writer accused of putting her "political agenda ahead of principles and patriotism." And then there were accusations of Harper bullying the CRTC to advance a licence proposal.
Dramatics aside, deceptive and partisan news not only devastates journalism but also pollutes public discourse, gravely crippling democracy. Although we are yet to see Sun News, its background suggests there is much to be weary of. Fox News has affected the States, and its echo is now threatening Canada.
Details

Category: Media Matters
Created on Wednesday, 17 November 2010 02:45
by
Alana Bergstrom
Standing at the front of the third year journalism class here at the University of Regina, I asked "Who thinks they can have a solid career in print?"
At first not many hands fly into the air. A look of deep thought crosses many faces, and from the back corner the question, "what do you mean by print?"
A question that seemed to merit a simple answer, yes or no, was actually difficult to answer.
Where future journalists see themselves in the print industry is unclear. It seems there is concern whether there will even be a print industry to work in.